Stories
The time a 110-year-old nun shares the secret to a long life
Italy's oldest native-born nun, Sister Candida Bellotti, commemorated her 110th birthday on Monday, February 20th, 2017. She received well-wishes from many including Pope Francis.
Sister Bellottiwas born in Verona, Italy, and became a nun in 1931.
For several years, She worked as a nurse for the Ministre Degli Infermi di San Camillo and now resides in a convent in Lucca.
When she clocked 107-years-old in 2014, she met Pope Francis and joined in a Mass at Rome.
Pope Francis said he "shared the joy of the happy celebration [of her birthday] and sent congratulations and heartfelt wishes."
After his kind message, Sister Bellotti decided to share a few words on her longevity and how others could live a long life as well.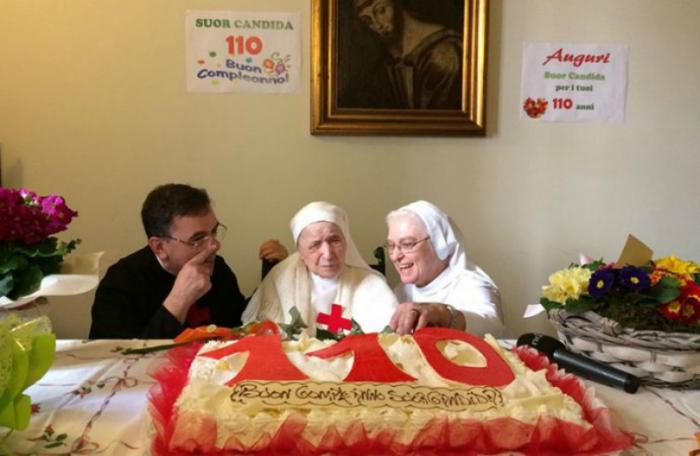 "Love, love, and keep on loving. With joy!"
"Have faith in the future, and put in as much work as you can to make your wishes come true."
When her cake was cut and she received the rest of her birthday well-wishes, Sister Bellotti explained one must "take things as they come."
She further stated: "Throughout my life, I have always thought to myself: Where God puts me, that is the right place for me."
In summary, Love, faith, and total acceptance of the will of the Almighty is the true secret to long life. Oh! If only we could abide by these virtues and conform ourselves to the will of God, we will not only live long on earth but live in eternity with God whom we have served diligently!
Amazingly, Sister Bellotti survived two world wars, 10 popes, and 57 Italian prime ministers by following this advice. May her wisdom echo throughout generations to come!
Read More
This 110-year-old nun got birthday greetings from Pope Francis
Nun who received birthday greeting from Pope Francis dies at 110