The internet erupted in a blanket of fear after 7-year-old Bana Alabed stopped sending messages on the social media app Twitter on Sunday.
Bana Alabed and her mother, Fatemah, opened the Twitter account @AlabedBana to show the world what was happening in Aleppo.
The account, which began because Bana wanted "the world to hear our voice," was short-lived.
It was opened in September this year and the last tweet appeared on Sunday reading, "We are sure the army is capturing us now. We will see each other another day dear world. Bye. – Fatemah #Aleppo
Then suddenly her account was deleted.
With over 100,000 followers deeply attuned to her family's struggle for survival in the besieged eastern part of Aleppo, shortly after her account went silent the followers began using the hashtag #whereisBana, asking if she and her family were alright.
Even "Harry Potter" author J.K. Rowling took to Twitter, just as worried as the other followers.
She retweeted several messages with the hashtag #whereisBana: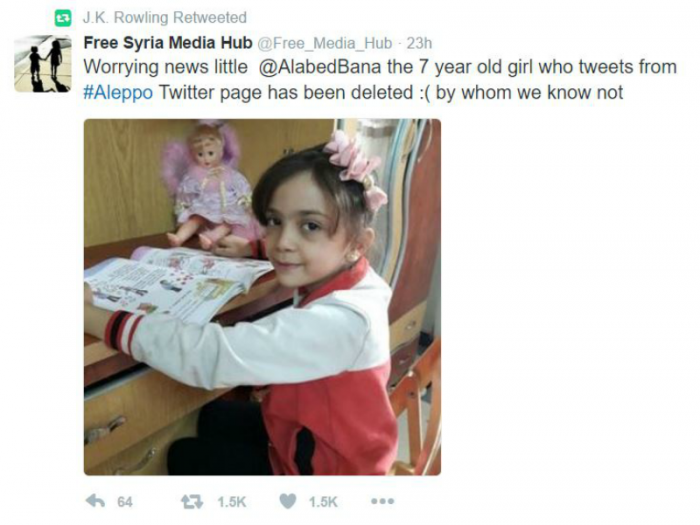 Author J.K. Rowling retweeted concerns for Bana's safety.
J.K. Rowling retweeted several messages on Twitter in search of Bana.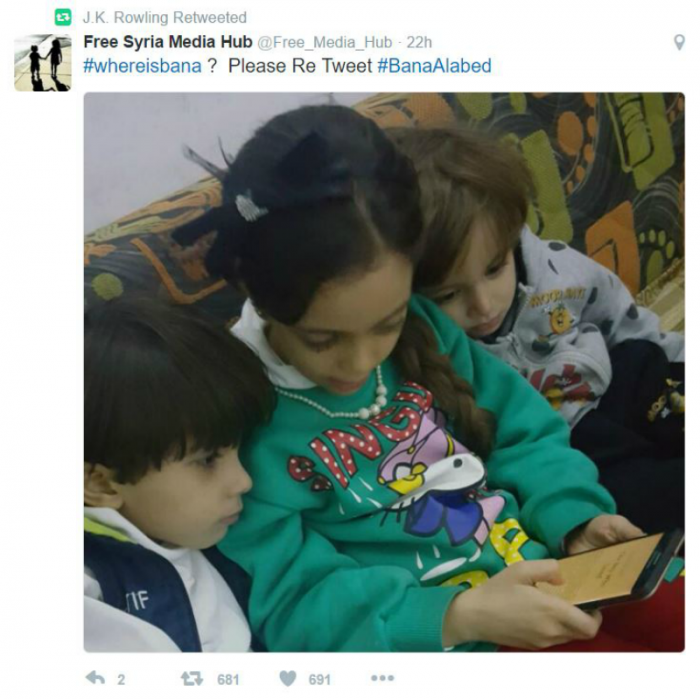 On Monday, Bana's account was reactivated and she offered a message reading, "Under attack. Nowhere to go, every minute feels like death. Pray for us. Goodbye – Fatemah #Aleppo
A government-led attack occurred in Aleppo on Sunday against ISIS forces, leaving civilians caught with no save haven in sight.
After seeing Bana's last message, many voiced concerns for her family and the horrible situation in the Middle East but according to the BBC, both mother and daughter are safe in an undisclosed location.
---