On Monday, science met theology in Italy during the Pontifical Academy of Sciences meeting at the Vatican.
The meeting, on Dr. Stephen Hawking's presentation, "Science and Sustainability: Impacts of Scientific Knowledge and Technology on Human Society and its Environment," included talks of a No-Boundary proposal concerning the origin of the universe.
The plenary session, according to Vatican Radio, will conclude Tuesday.
On Monday, Pope Francis met with Dr. Hawking during the four-day plenary session on Science and Sustainability, but he did not exchange many words.
While addressing experts at the session, Pope Francis stated: "We are not custodians of a museum and its masterpieces that we have to dust off every morning, but rather collaborators in the conservation and development of the existence and biodiversity of the planet and human life."
The Pontiff continued, explaining modern society has grown up "thinking we are the owners and masters of nature, authorised to plunder it without any consideration for its secret potential and evolutionary laws, as if it were an inert substance at our disposal, causing, among other things, a very serious loss of biodiversity."
His Holiness called for an "ecological conversion" to help people understand they are responsible for the care of the world's resources.
It is time for people to recognize their responsibility to promote social justice and overcome "an  unfair system that produces misery, inequality and exclusion."
Pope Francis explained how sustainable development would unite taking care of both people and the planet, promoting the common good worldwide.
He described the current "weak response" to international policies concerning the promotion of the common good and lamented how easily scientific opinion is "disregarded."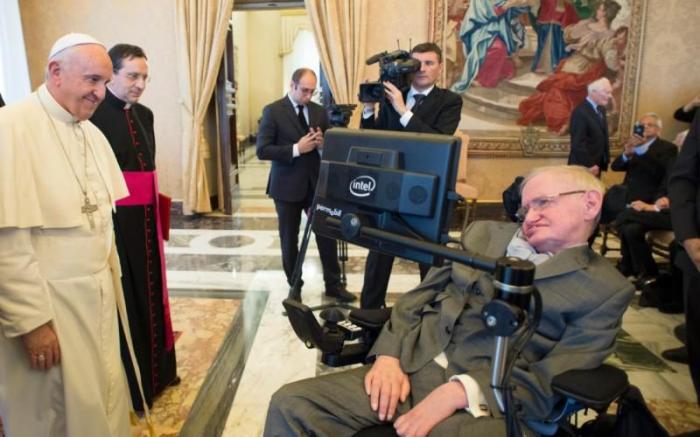 Pope Francis greets Stephen Hawking (L'Osservatore Romano).
Evidence of this blatant disregard is seen in how other countries remain "distracted" or delayed in applying international agreements on the environment, as well as the "continuous wars of dominance masquerading as noble declarations that cause increasingly serious harm to the environment and the moral and cultural wealth of peoples."
Science experts sat in silence as the pontiff explained they should "build a cultural model to tackle the crisis of climate change and its social consequences so that enormous productive capacities are not reserved only to the few."
To reach that point, the Pope explained scientists must be free of political, economic and ideological interests.
They should be leaders to propose solutions to water, energy and food security issues – all of which they are deeply knowledgeable in due to their studies and demonstrations of the many crises facing the planet.
Pope Francis believes the world's scientists must collaborate to create a "regulatory system that includes inviolable limits and guarantees the protection of ecosystems before new forms of irreversible damage not just to the environment but also to coexistence, democracy, justice and freedom."
According to Rome Reports, Salvador Moncada, from Latin America, and one of the newest members to the Academy, who won a 1998 Nobel Prize, witnessed the negative effects of climate change first-hand.
"The evidence for climate change is overwhelming now and it's being accepted everywhere," Moncada explained at the meeting. "I think the pope has had a great impact, a beneficial impact.
"It has made us think. It has made us reflect. It has made us understand which are the main problems confronting humanity and has added a sense of urgency to all our activities and I think it's great."
By Kenya Sinclair