Thought rumors have been floating around for some time, the Vatican confirmed Saturday that Pope Francis will travel to Fatima, Portugal May 12-13 in honor of the centenary of the apparitions.
"On the occasion of the centenary of the apparitions of the Blessed Virgin Mary at Cova da Iria, and welcoming the invitation of the Republic and of the Portuguese bishops, His Holiness Pope Francis will go on pilgrimage to the Shrine of Our Lady of Fatima May 12-13, 2017."
The announcement was made in a Dec. 17 communique from the Vatican. Official statements confirming the dates had already been made over the past few days by both the president of Portugal, Marcelo Rebelo de Sousa, as well as the Fatima Shrine itself.
Of all Marian apparitions, those relating to Our Lady of Fatima are among the most famous. On May 13, 1917, siblings Francisco and Jacinta Marto – 9 and 7 – and their cousin, 10-year-old Lucia dos Santos, took their sheep to graze near the Portuguese town of Fatima when they saw a figure of a woman dressed in white and holding a rosary.
After this first appearance, the Virgin Mary then appeared to the children on the 13th of every month from May until October. The message of the Fatima apparitions can be summarized primarily as a call to repentance and prayer.
In 1930, the Catholic Church proclaimed the supernatural character of the apparitions and a shrine was erected at Fatima. It was visited by Pope Paul VI May 13, 1967, and later by Pope John Paul II and Benedict XVI.
St. John Paul II had a particularly strong devotion to Our Lady of Fatima. After a harrowing assassination attempt in 1981, he credited his survival to her miraculous intervention. As a sign of his gratitude, he placed the bullet from the failed assassination in her crown.
"Pray for the brother who shot me, whom I have sincerely forgiven. United to Christ, as a priest and victim, I offer my sufferings for the Church and the world," Pope John Paul II said on that occasion.
Vatican Secretary of State Cardinal Pietro Parolin traveled to Fatima Oct. 11-13, six months before the Pope's own visit, largely as a precursor to the papal trip.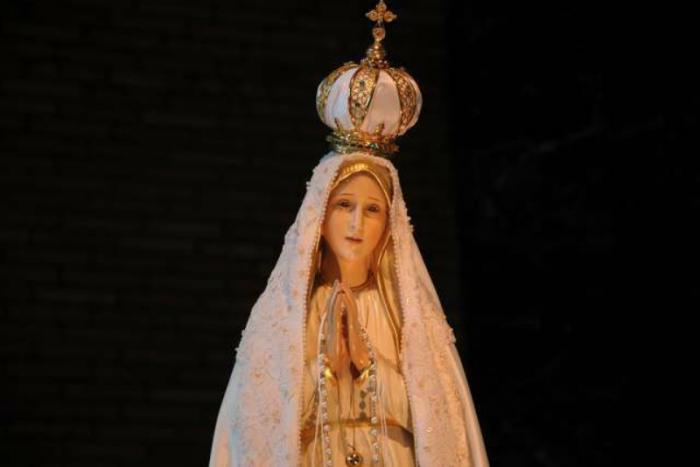 Our Lady of Fatima in LA Archdiocese (Joseph Ferrara/Flickr).
His visit, which could indicate what the Pope's schedule might look like, included a stop in Lisbon, where he gave a talk on "The Identity of Europe" at a conference at the Catholic University of Portugal marking the 50th anniversary of its founding in 2017.
He also visited several churches and had dinner with Cardinal Manuel José Macário do Nascimento Clemente, the Roman Catholic Patriarch of Lisbon.
At Fatima, Parolin participated in an Oct. 12 blessing of the candles and praying the holy rosary at the Little Chapel of Apparitions before processing to the altar to celebrate a candlelit Mass in front of the Basilica of the Holy Rosary. On Oct. 13, there was a special procession to the Basilica with Mass and benediction of the Blessed Sacrament.
It is likely that the Pope's visit will look similar that of Parolin, however, Francis has previously said he would only go to Fatima.
In 2013 Pope Francis received the statue of Our Lady of Fatima in St. Peter's Square, inviting those present to meditate on the gaze of Mary.
"Oh Mary, let us feel your gaze as a Mother," he said. "Lead us to your Son, as we are not Christians 'for show', but who can 'get their hands dirty' to build with your Son, Jesus, his Kingdom of love, joy and peace."
"How important it is," he said of Mary's gaze. "How many things can be said with a look! Affection, encouragement, compassion, love, but also reproach, envy, pride, even hatred.
"Often the look says more than words, or says what words cannot or dare not say. Who looks at the Virgin Mary? She looks at all of us, each of us… She looks at us like a Mother, with tenderness, with mercy, with love. The same way she looked at the child Jesus, in every moment of his life… When we are tired, discouraged, overwhelmed by the problems, look to Mary."
---
By Elise Harris