Dozens were injured when an "explosive device" was detonated in a Manhattan neighborhood Saturday evening.
Twenty-nine people were injured but there are no reports of fatalities.
The explosion occurred at 23rd street and 6th avenue. Investigators discovered a pressure cooker with wiring protruding from it a few blocks away.
Duct tape appears to have connected what authorities believe was a cellular phone to the wiring, which was discovered in or near a dumpster, according to a source who spoke to CNN.
A senior investigator reported authorities are sorting through surveillance footage for clues but have yet to identify any suspects.
The problem with the videos include grainy images and cameras stationed too far away for proper identification.
Governor Andrew Cuomo released a statement Sunday morning, where he said authorities were hard at work to find the person responsible for the attack.
"We will find whoever did this or whatever group did this and they will be brought to justice, period," Cuomo stated. "We will not allow these type of people and these type of threats to disrupt our life in New York.
"That's what they want to do. We are not going to let them do it. This is freedom. This is democracy, and we're not going to allow them to take that from us…A bomb exploding in New York is obviously an act of terrorism."
Though there it currently no evidence of international terrorism connected to the explosion, Cuomo stated: "A bomb going of is generically a terrorist activity. That's how we'll consider it. And that's how we will prosecute it."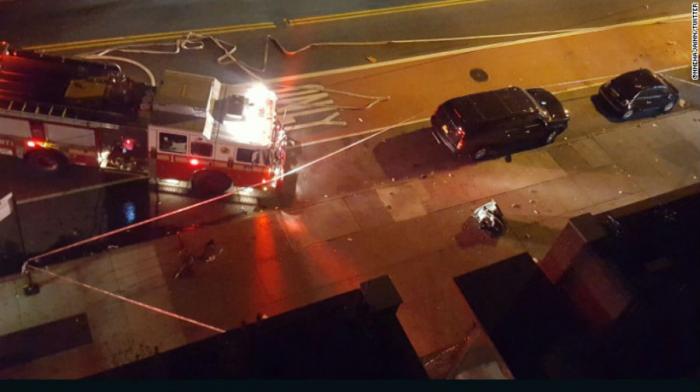 Officials cordoned off the area and continue to investigate
No terrorist group has taken responsibility for the explosion but 1,000 New York State Police officers and National Guard troops will be deployed to heavily populated areas susceptible to attacks, such as airports, bus terminals and subway stations.
Cuomo stated the increased security was "just to err on the side of caution" and added: "I want New Yorkers to be confident when they go back to work on Monday that New York is up and running and we're doing everything that we need to do."
Witnesses admitted the neighborhood was still afraid, particularly since "it's a really quiet neighborhood," one witness testified.
Survivors spoke to CNN, including Brenda Abero, a pregnant woman.
Thankfully, her unborn child remains uninjured.
Of the remaining injured victims, only one was reported to be in critical condition. No other information is currently available on their status.
---