The mystery of the Bermuda Triangle may have finally been solved. Scientists studying satellite images of the area noticed something bizarre and have made a discovery that could solve the mystery.
The Bermuda Triangle has been a source of mystery ever since the time of Christopher Columbus. The Genoese mariner sailing for Spain noted in his logbooks that his compass readings were wrong and a few nights later the entire crew observed a mysterious light.
Across the next five centuries, mysterious disappearances of both ships and aircraft have piqued the interest of millions. In the 1960's, it was noted that the area forming a triangle between the island of Bermuda, the Bahamas and Florida was a hotspot for disappearances. The phrase "Bermuda Triangle" was coined.
All kinds of theories abounded. UFOs, underwater volcanism, the existence of the lost island of Atlantis were all proposed. Statisticians studied the phenomenon and concluded that no more ships or planes were lost in the Bermuda Triangle than in any other similar body of water. But their conclusion did not satisfy the minds of most people who insisted that something mysterious is going on.
Why so many ghost ships with their crews vanished? Why bizarre compass readings and mysterious lights?
Aliens? One of the more popular theories and the subject of several movies and documentaries. Science regrets the disappointment.
Scientists have searched in vain for an explanation, but they may finally have an answer.
Scientists studying satellite photos of the region observed hexagonal patterns in the clouds. This was unexpected. Subsequent study using radar satellites revealed another surprise. These cloud patterns were associated with very powerful winds, gusting up to 170 MPH. Such winds are well beyond hurricane force.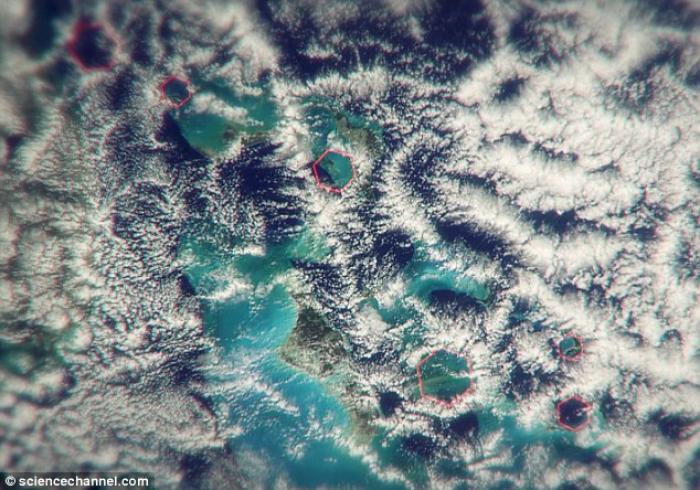 Known as air bombs, these clouds can produce winds of up to 170 MPH.
Scientists dubbed these clouds "air bombs."
Powerful winds can bat planes out of the sky, especially if they are unexpected and the pilot does not recover the aircraft properly. They can also create large waves, and if multiple waves run together, they can form massive rogue waves, some hundreds of feet in height, that can sink a ship instantly. Rogue waves can appear anywhere, even in open water on a clear, calm day. They are rare, but have been filmed. Until recently, rogue waves were themselves the stuff of legend.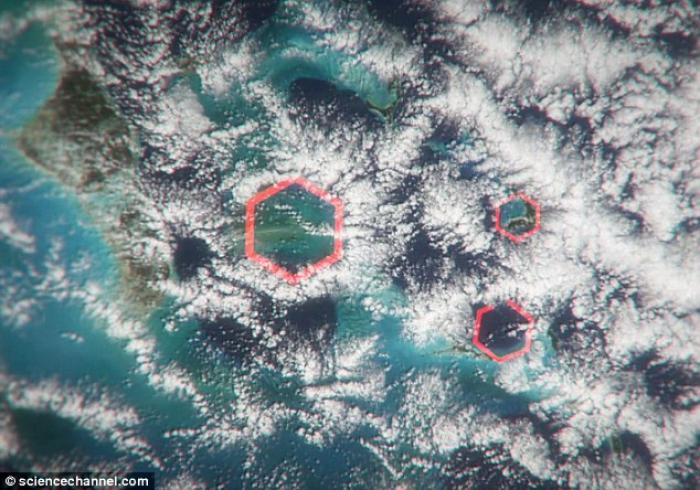 Scientists have observed these mysterious cloud formations and learned they are associated with powerful winds that can wreck planes and ships.
Today, we know the legends about rogue waves are real. Perhaps these strange cloud formations are the cause of those waves?
The Bermuda Triangle is an area between the island of Bermuda, the Bahamas and Florida.
If so, then at least part of the Bermuda Triangle mystery could be solved. The theory would not explain mysterious lights or bizarre compass readings, but it could explain why some aircraft and ships simply vanish without a trace, above water one moment, and under the sea in the next.
By Marshall Connolly