Pope Francis arrived at the Pauline Father's retreat center in Ariccia, Italy.
The Pontiff arrived Sunday and will remain at the annual Lenten retreat site until March 10.
During his stay, Vatican Radio reported he will engage in the week-long Curial Spiritual Exercises.
The spiritual exercises are being led by Franciscan Friar Giulio Michelini and each day, His Holiness will pray, meditate and enjoy Eurcharistic adoration.
On March 6, Fr. Michelini delivered two meditations on "Peter's confession and Jesus' path toward Jerusalem" and "Jesus' last words and the beginning of the Passion."
In his first meditation, Fr. Michelini asked: "Do I have the humility to listen to Peter? Do we have the humility to listen to one another, paying attention to prejudices that we certainly have, but attentive to receive that which God wants to say despite – perhaps – my closures?
"Do I listen to the voice of others, perhaps weak, or do I only listen to my voice?"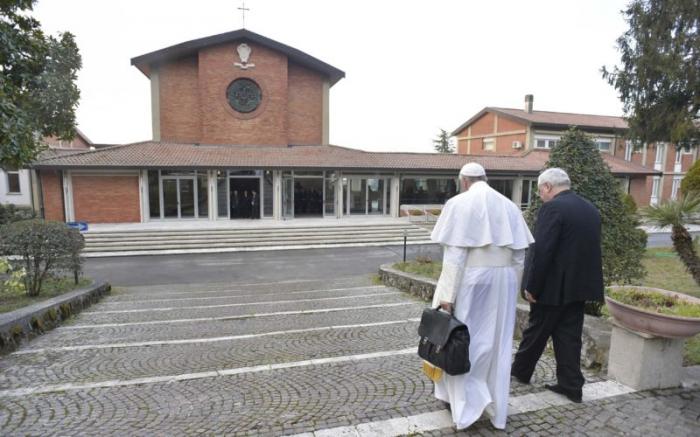 Pope Francis arriving at the retreat centre on Sunday (CNS).
Seventy-four people were present for the retreat and were asked to reflect on the criteria by which they base their discernment and whether "I place myself and my personal benefit before the kingdom of God."

Fr. Michelini continued, explaining Christians must act upon God's will and have "courage to go into the deep to follow Jesus Christ, taking into account that this involves carrying the cross."
Jesus, the Franciscan stated, did more than just proclaim the joy of the Resurrection. He also proclaimed: "If anyone would come after me, let him deny himself and take up his cross and follow me."
That afternoon, Fr. Michelini delivered the second meditation and explained the reading of Christ's Passion reveals two important points: Jesus, an observant Jewish layman preparing to celebrate the Passover, and the high priests, who are concerned with the outward appearance of the feast but also "prepare to murder an innocent man."
When reading this passage, Fr. Michelini said Christians must ask themselves if they are "sacred professionals resorting to compromise in order to save the facade, the institution at the expense of individual rights."
He clarified: "This is about an attitude that loses the right perspective, believing they are serving God."
---