Articles
What St. Valentine actually look like REVEALED!
St. Valentine is one of the most popular Saints in the Catholic Church. Millions celebrate his feast day around the world with signs of affection for their loved ones.
St. Valentine was imprisoned by Claudius II after he was caught converting people to Christianity.
While imprisoned, St. Valentine continued God's work, resulting in his death.
There are prayer cards, relics and medals, all depicting St. Valentine – but scientists have done some research and believe they have discovered what the Saint actually looked like.
Using 3D mapping and taking extensive pictures of St. Valentine's skull, which resides in the Basilica of Santa Maria of Cosmed in in Rome, experts believe they have uncovered the saint's physical identity.
They digitally mapped St. Valentine's skull by one of Brazil's leading computer graphic designers, Cicero Moraes.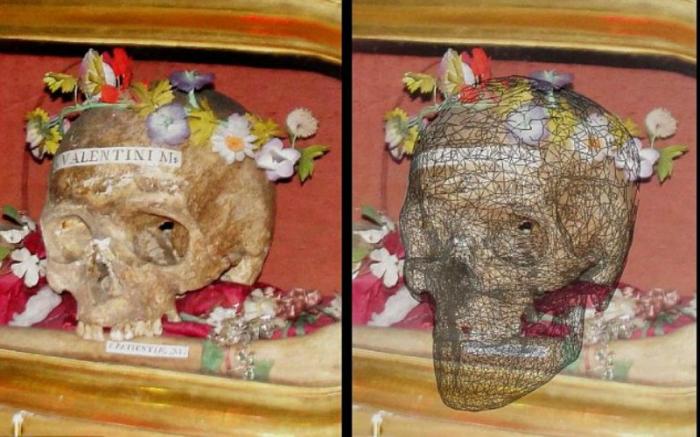 It took 250 pictures of the skull for researchers to build pictures of St. Valentine (Caters News).
The team used 3D interactive technology to reveal St. Valentine's face the day before Valentine's Day.
Photographer José Luís Lira is the president of the Brazilian Academy of Hagiology (the study of saints) and has worked with Moraes on the face of Mary Magdalene and St. Pauline of Brazil.
He saw an opportunity to work on St. Valentine when he was in Rome in October last year. He was working on a different project but explained: "I was in St. Peter's Square when one of the many sellers there gave me a picture of St. Valentine.
"I took it as a sign to see if I could get unthinkable, close up access to the skull in the Basilica. The chance to do the facial reconstruction of one of the Roman Catholic church's most important and venerated relics has been a life-long dream."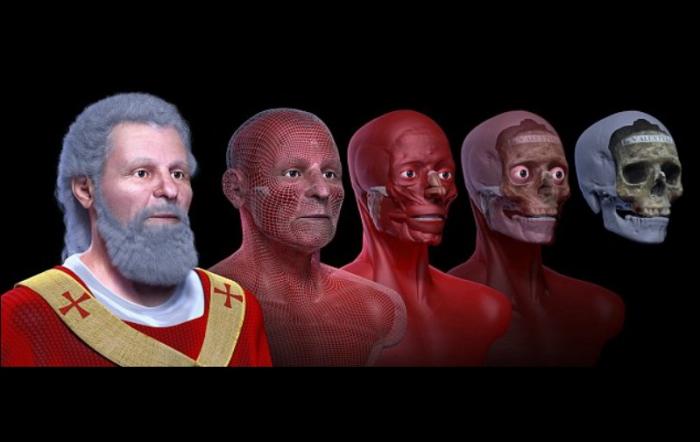 The process was time consuming but the results were worth it (Caters News).
Lira was not allowed to touch the skull so there was a small front section that remained uncaptured, leaving Moraes to fill in the gaps as best he could, but everything else is entirely accurate.
The 3D reconstruction which revealed anatomical layering of soft tissues, muscles, skin tone pigmentation and sculpting.The final result reveals a bearded Saint with dark eyes in his mid-fifties, matching the age of the skull.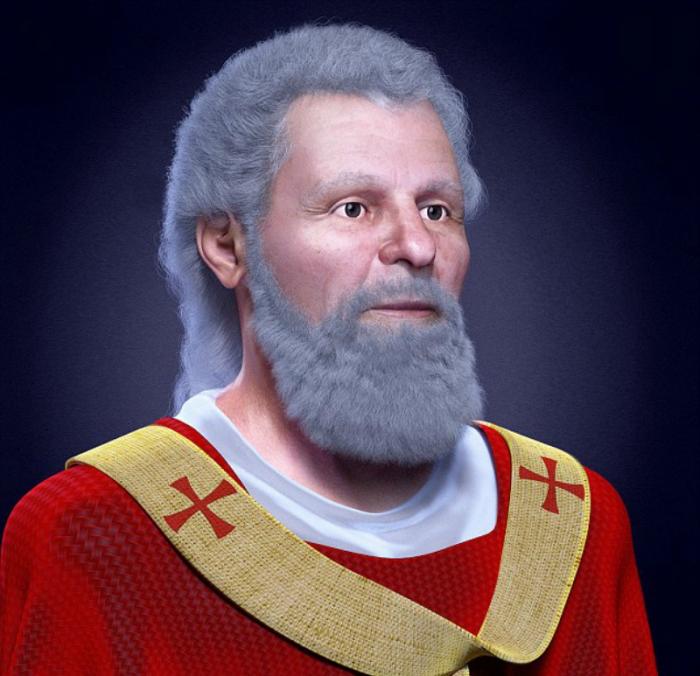 3D mapping revealed what St. Valentine really looked like (Caters News).
St. Valentine is depicted in a tunic, the official liturgical robes of a priest of his time, dyed red to represent his martyrdom.
Moraes specializes in recreated lifelike images of saints and boasts  10 Roman Catholic holy people 3D facial reconstructions.
"This has been an exciting, complicated and rare project to do," he admitted. "It's not often that you get access to a precious and suitably relevant relic like this. We were fortunate to be in the right place at the right time.
"We worked on this project for three months and unveiling St. Valentine's face now, is a timely reminder of why this dedicated day of affection first started. Our work also gives the world a visual reference of who we should be thanking for the celebrations."
---